Some news regarding the imminent release of 3D Bodyscans of a Male model from Infinite-Realities. The data will be available to purchase on www.triplegangers.com in the next week. With the studio already booked to scan 2x Female Gymnasts this weekend and another 1x Male Bodybuilder the following weekend, ready to be distributed next month.

The online store has just had a revamp this week, re-designed and ready to distribute allot of 3D scan data to the online digital artist community. IR plans to sell a myriad of digital content of various types of people with many different body shapes and ethnicity. There are also plans to open a small forum so customers and users can leave comments, show how they are using the data in their work and also place requests for future models. I'm interested to see how much of a demand there is and how much people would be willing to pay for such reference data.
The scans are useful to view subjects from 360 degrees, as study material, also useful for Conceptual Art, Previz, Character Previz, Architecural Renderings, Digital Double's for background shots, or reference for the Games and VFX industry. Soon IR will scan models in Military Uniforms, Combat Gear and Various other costumes to study cloth folding, fabric interactions and how hard surface objects interact in movement and posture.
These are ideal anatomy tools for any artists to work with, in 2D or 3D and all in brilliant techni-colour, at Gigapixel resolutions.
Some early examples of the type of data that will be available, hot off the 3D digital molding press, still needs to be trimmed and cleaned.
Details from an Ultra scan: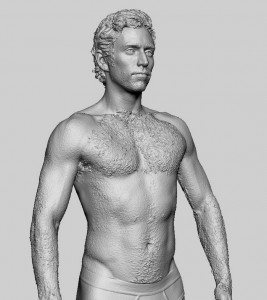 Standard Reference Poses:
Body Action Coding System (BACS)
..yes I just made that up!
This could be a good opportunity to build a new database structure and an efficient way to store human movement to analyze. I would love anyone's input with regards to this. Perhaps research institutes might like to combine ideas or seek data to test with? I'm always interested in collaborations.
Unlike older laser scanners; this system can capture much more subtle body movements, like skin wrinkling, muscle flexing, tendon movements, fat movements etc


Captured mid-motion:
Demonstration video of colour capture and Clothing tests:
[youtube width="480″ height="320″]https://www.youtube.com/watch?v=5ULCDPKGF10[/youtube]
.
Another post will follow next week, giving away some FREE sample data.
Would you like to share your thoughts?