I've been out of action for about 6 months on this R&D Blog, as IR has been totally swamped with various projects. In amongst all that I was able to find some time to re-design the site. It's still a little sketchy but functional and gets IR's ethos across.
So back to the post title, "Private Limited Company, Accounting, VAT Registration and Cash-flow" BORING!! …..right? What's that got to do with Scanning!!

…as it turns out a great deal.
I registered Infinite-Realities back in 2007, along with IR-Entertainment Ltd in early 2009, there was a trade over of company articles in 2009 due to a name change and new formation.
This now means IR now have over 4 years worth of valid (profitable) accounts which has many added benefits when it comes to seeking investment or expanding the company in the future. Ideal for leasing agreements, loans etc.
Some good reasons as to why you might want to be a Private company limited by shares in the UK:
Convert your business to a Private Limited Company
If you're a sole trader or partnership, there's no better time to convert your business to a Private limited company. Here are four reasons why:
1. The principal benefit of trading as a limited company has always been the limited liability bestowed upon the company's officers and shareholders. As a sole trader or other non-limited business, personal assets are at risk in the event of failure of the business, but this is not the case for a limited company. As long as this business is operated legally and within the terms of the Companies Act, directors' or shareholders' personal assets are not at risk in the event of a winding up or receivership. And as often happens on occasion, such events are not always under our own control.
2. The first £10,000 of a limited company's profits are tax free. This is not the case for sole traders and partnerships.
3. Company profits may be distributed as dividends to shareholders. Presently, National Insurance is not applicable to dividend payments, effectively reducing your tax liability still further.
4. Operating as a limited company often gives suppliers and customers a sense of confidence in a business. Quite often, larger organizations in particular will prefer not to deal with non-limited businesses.
To get there and to run a legitimate company I've found you have to keep things lean (no big wages or bonuses. YET) and make sure everything is done by the book. Including registering for VAT if your company is earning over at least £70k a year, which I would hope it is if you are trying to be successful. Registering for VAT allows you to claim back on any VAT made on purchases, Bonus! and making sure you charge clients VAT following the appropriate rules across certain borders. i.e.
1. no VAT to customers or businesses outside of the EU.
2. Zero rated VAT for business in the EU (whilst declaring each company's VAT number you do business with each month)
3. added VAT for individual customers in the EU.
4. In the UK VAT all round!
..it can get quite complicated, especially if you run an online store, as the VAT calculation has to adhere to strict rules. Otherwise HMRC might come knocking on your door! so fore warning on that. Remember do things by the book.
Back in 2009 I got some great advice from my uncle (as fate would have it, my uncle is an accountant who helps businesses and companies) he helped show me the correct way to manage cash flow using a simple formula.
These numbers are fictional but apply to any large or small business: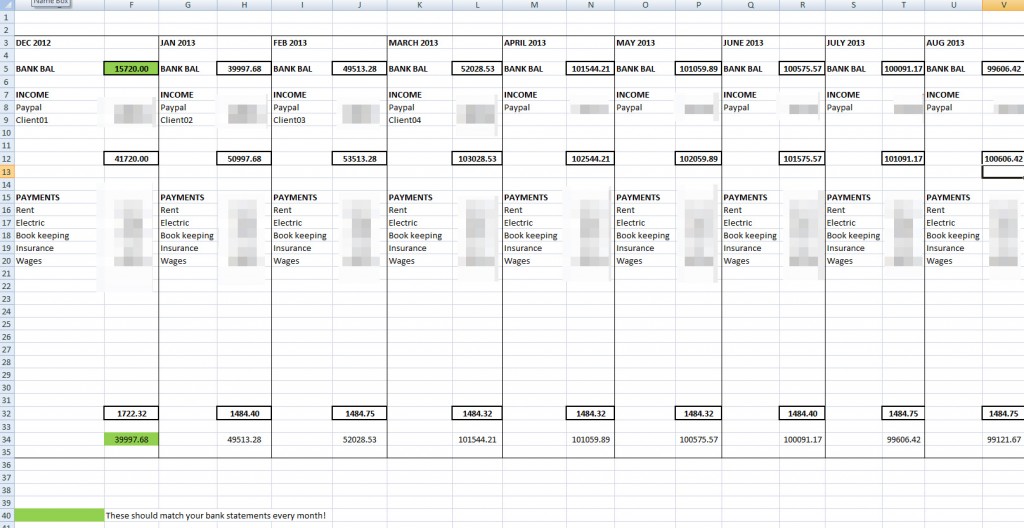 This is all you need to know, as to how to run a successful business. Money in, Money out. Make sure it tally's to your business account every month and you cannot go wrong. It also allows you to predict months in advance how to make your cash flow, where to invest when to upgrade, when not to!! the key obviously is. Money in! once you suss that, the rest flows like water.
Again, these numbers are fictional but show the basic calculations: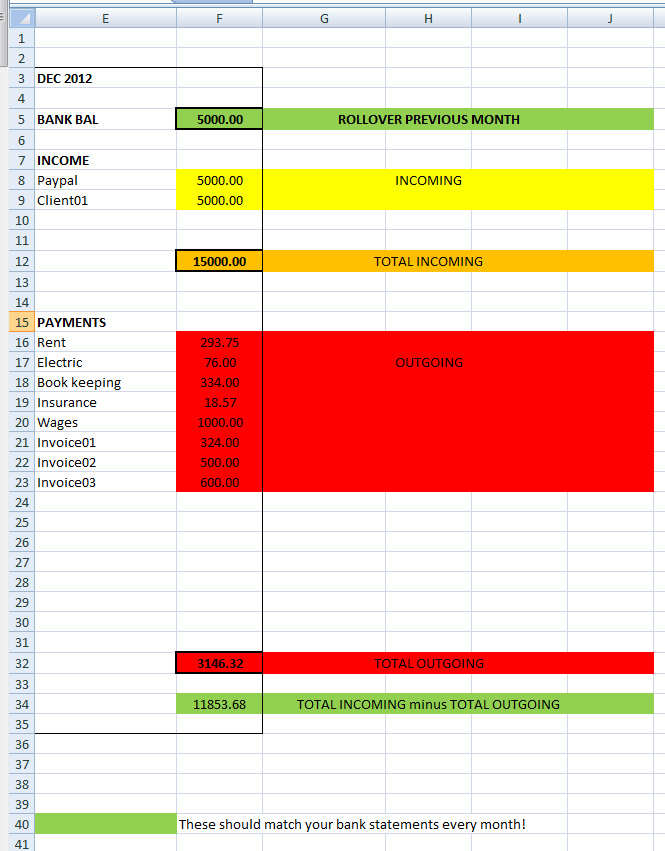 I really recommend finding a good accountant as well as a loyal and trustworthy book keeper. IR purchases allot of equipment, lots of invoices, bills etc Having a good book keeper helps you tally invoices each month. Using an accounting application called Sage keeps everything in order and safe. Keep copies of records and invoices, ready for the day you might be due a VAT or accounts inspection by the dreaded HMRC!! I've already had 1x VAT inspection and trust me, that gets you sweating. But again, if you do things by the book you're relatively safe!
So far 2013 has been IR's most profitable year, I think in part to careful book keeping and growing slowly. Spending money wisely, investing in the future and not blowing wages and dividends on fast cars or a crazy lifestyle.
I hope the above cash-flow sheet strategy might be of use to someone, as I have found it to be so powerful you could run most large businesses or banks using that method. It really works and is the main reason IR is alive and functional today after 4 years.
I used to be terrible with money and accounting but now, I make sure my accounts tally to the penny. Every month!


Turnover is vanity. Profit is sanity. Cash is reality.
Would you like to share your thoughts?