Another quick blog post to show off some scans IR did recently testing out some new scanning techniques, new lights, new reference cameras and noise projection experiments on face capture.
Life Model
Usually a client will ring up with a request about scanning, either full-body, faces or both. We discuss the techniques, options available, then ultimately pricing. IR has a variety of model agencies to work with that can supply some outstanding life model talent. Ranging from dancers, acrobats, kung-fu experts, stunt doubles, actors, cat walk models you name it. Some of the best and brightest talent in the industry. Or alternatively a client will cast using their own agencies and bring the talent with them to direct and shoot.
IR is currently situated 2-3 hours outside of London by car or train from Liverpool Street station. A single scanning session can take anywhere from 15 minutes to a few hours. IR can scan 100's of expression scans in under an hour, dozens of t/a-pose full-body scan costume changes an hour, or 100's of dynamic poses an hour.
The system is now designed to be 99.999% reliable, NO dropped frames, NO black images and super fast. It's now very easy to capture high resolution, super detailed scans of humans in a split second. Processing takes time but most projects can be delivered in around 24-48hrs thanks to IR's custom built render / processing farm built specifically for photo reconstruction.
Example of a typical FACS Scanning session:
(visualized in real-time with Marmoset Toolbag)
You might recognize the model. Lauren is a fantastic dancer and actress. Lauren was booked by IR for an in house VR, R&D research project, with model release forms signed as standard.
Lauren and I scanned over 75 expressions in around 30 minutes. Using a new structured lighting technique. Lauren had extremely smooth, pale skin, normally VERY hard to scan.
RAW scans straight from Agisoft. Better inner ear scan, sharper details overall. Notice on teeth and eyes. The trick is syncing quickly with noise and colour capture, otherwise you get a mismatch. As humans tend to move great distances even in a split second! Very difficult to capture.
Notice the lack of specular sheen on the skin. Agisoft is able to counter act Fresnel specular sheen quite well when capturing from multiple-angles and combining the images.
I'm still undecided on whether to use linear-polarizing techniques. 1) because of another layer of glass = diffraction and blur. 2) nearly 3 stop down in available light, because you also have to linearly polarize your light sources.
Much more testing to be done.
Syncing / Aligning FACS Expressions
(more to come on that soon)
This .gif features another agency model called Toby
Example A-Pose Fullbody Scan: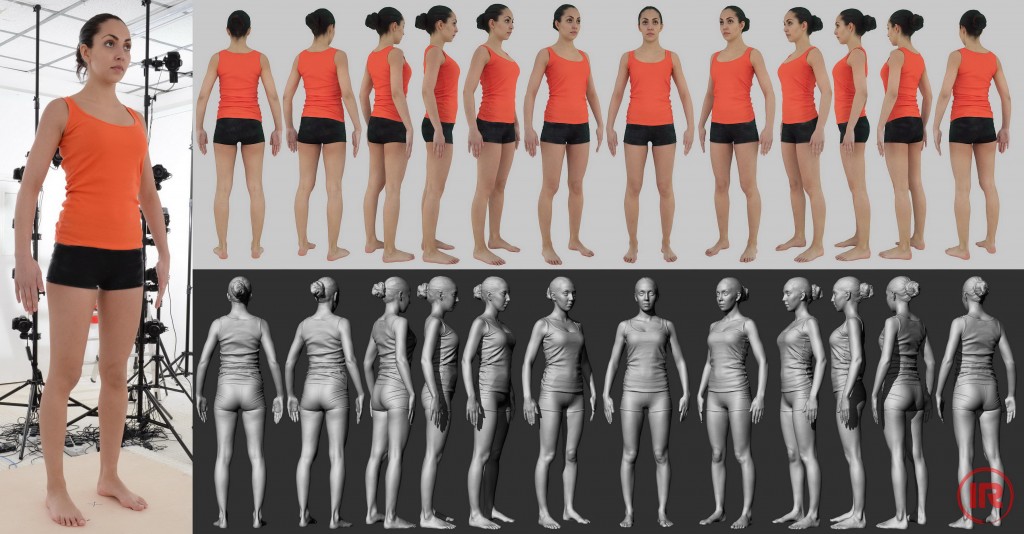 Split second capture. 115x DSLR images downloaded and used to build the 3D scan. This example has been cleaned, uv-unwrapped and is ready for animation. 10k textures from Gigapixels of colour information. The beauty of photogrammetry scanning is not just the high resolution scan output and textures, but the near 360 degree reference imagery! as well as 8x 36MP fullbody shots.
Some Extra Dynamic Dance Scans:





After working with some recent fashion designers and Mannequin Manufactuerers IR has employed 8x Nikon D800 reference Cameras, so clients can evaluate each pose quickly and decide upon the best choice of each scan set.
Example Reference Shot 5x D800 Setup (now 8x)




One restriction at the studio is space. So to compensate because the 36MP DSLR's are fullframe, I can use 35mm lenses, the issue is this introduces distortion to the images. Ideally these shots should have as little perspective and distortion as possible. On an upcoming new build, I will have more space and should be able to utilize 50mm prime lenses to help with distortion.
Having reference images taken during scanning from multiple angles is essential for some clients and art directors to make quick informed decisions about pose and form, so they can choose what to be processed later on.
The size of the capture volume and amount of cameras allows for a deeper depth range to be scanned, for more dynamic and cleaner shots. Note point count. Anything around 250,000 for a single shot system is normally good news. Very rarely any failed alignments. Maybe some cameras that don't see anything wont be included, if the subject is out of shot.
DOF (depth of field) is always the enemy! curse its creation!
Scanning a large depth volume in a short distance range, restricts f-stop to around 12-14. Anything higher and diffraction sets in, anything lower and DOF will blur through the capture volume.
Mannequin manufactures and fashion designers are EXTREMELY focused on what they want, mm by mm posing in some cases. Some clients may want to take 100's of takes of just 1 pose, and they may require dozens of poses during the booking. This can really push the capture system to the limits (100's and 100's of captures x 115x images)
This is why it's ESSENTIAL to have a really reliable scanning setup, with robust storage and redundancies.
4x PC's running up to 30x DSLR's each. All controlled from 1x Master PC. That's allot of DSLR's that have to play nice, together. Plus another separate PC and triggering system running the 8x reference Cameras using the Breeze Nikon Software.
I envy "photographers" they don't realize how easy they have it!! 🙂
The network infrastructure and reliability of the system has to be running at 100%. You DO NOT want the system to break half way through a capture session, clients don't like this.
This used to happen (to me) allot with the old 14x laptop system, but not any more. The gremlins have been exorcized!
..but there is always that 1% error margin, broken / popped power adapter(s), software malfunction, clog in the USB pipes! etc ..not due to system design but (depending on your 'preference') an act of 'one' of the god(s) 🙂
IR Freezing Time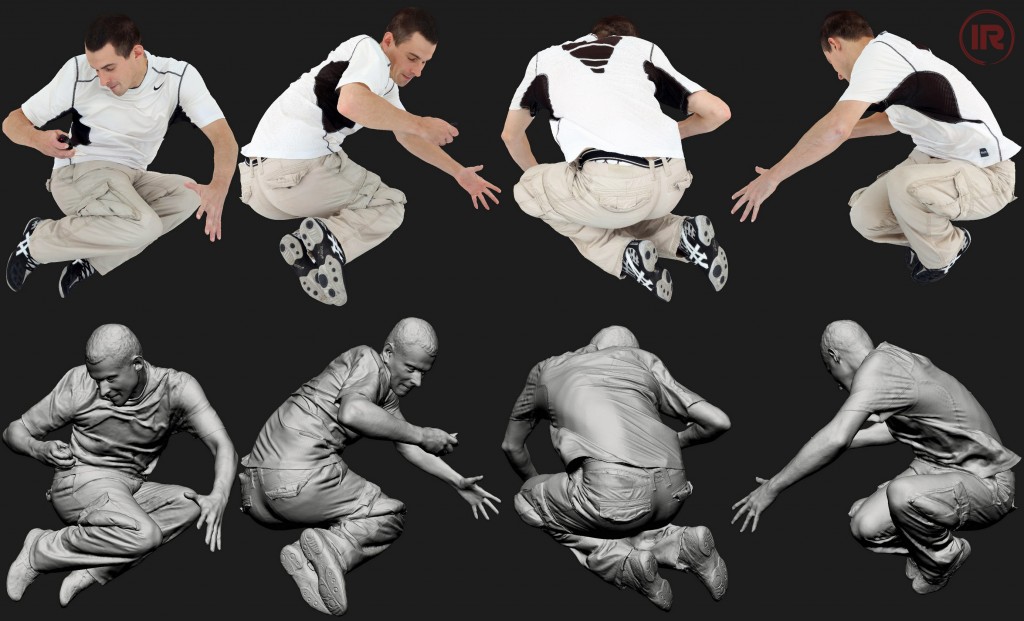 Split second dynamic scan, using a system built for a client in the EU. 115x DSLR setup built in 3 days. Scan features Alexander Tomchuk!
An IR dynamic scan, displayed Pepper's Ghost style in Hong Kong!
There you have it, a brief run down of scanning at IR. I hope to post a video soon, using a GOPRO3, showing a system power up. So you can see how it all runs and works.
I hope this Blog post might be of some use (duck and dive around the grammatical errors!).
Bon voyage!
INFINITE
Would you like to share your thoughts?