I can hint at a few good reasons why it might be a good idea…
It kicks ass!
It has useful tools to set scale and orientation
The "Ultra Build" Geometry addition adds in ALLOT of hidden detail that the HIGH setting cannot pick out  Ultra High is now apart of Agisoft Standard addition, as of build 1376.
It helps support Alexey pasumansky and his team at Agisoft to further improve the application
Python Scripting
(I have been implementing techniques taught to me by Helmut Kungl from xyz-rgb, at the company who made the awesome Scanner-Killer application. Helmut kindly supplied IR (at a good price) with some excellent rail systems to mount Stereo Pairs and over the last year provided a great deal of insight into how best to synchronize and capture with a Photogrammetry system. For the time being I am using Agisoft but I hope to see Scanner-Killer implement similar features as each applications have their own benefits and drawbacks)
Below is an example of why Agisoft Pro is a great upgrade, I didn't think the Ultra settings would do anything apart from increase Processing times exponentially but it seams there is even more hidden detail to be taken from the Photographs. This all depends how well you setup and configure your Camera array. BUT you need shed loads of RAM, no less than 24 GB.
I use a sneaky array, setup in a specific pattern, acquiring 20736×13824 pixels of information from each angle. I have no idea what MP that is, perhaps 72MP of data? that's allot of useful Colour information to texture and build with.
I will be adding extra Cameras for other angles soon, to get a more over lapping 180 degree Capture.
It's very hard to design a single shot capture array that can capture a large "dynamic" volume, this is the main focus of my current part-time research.
Capture examples with Agisoft (very early days, work in progress):
Raw Captures, no smoothing or High-Pass fiddles.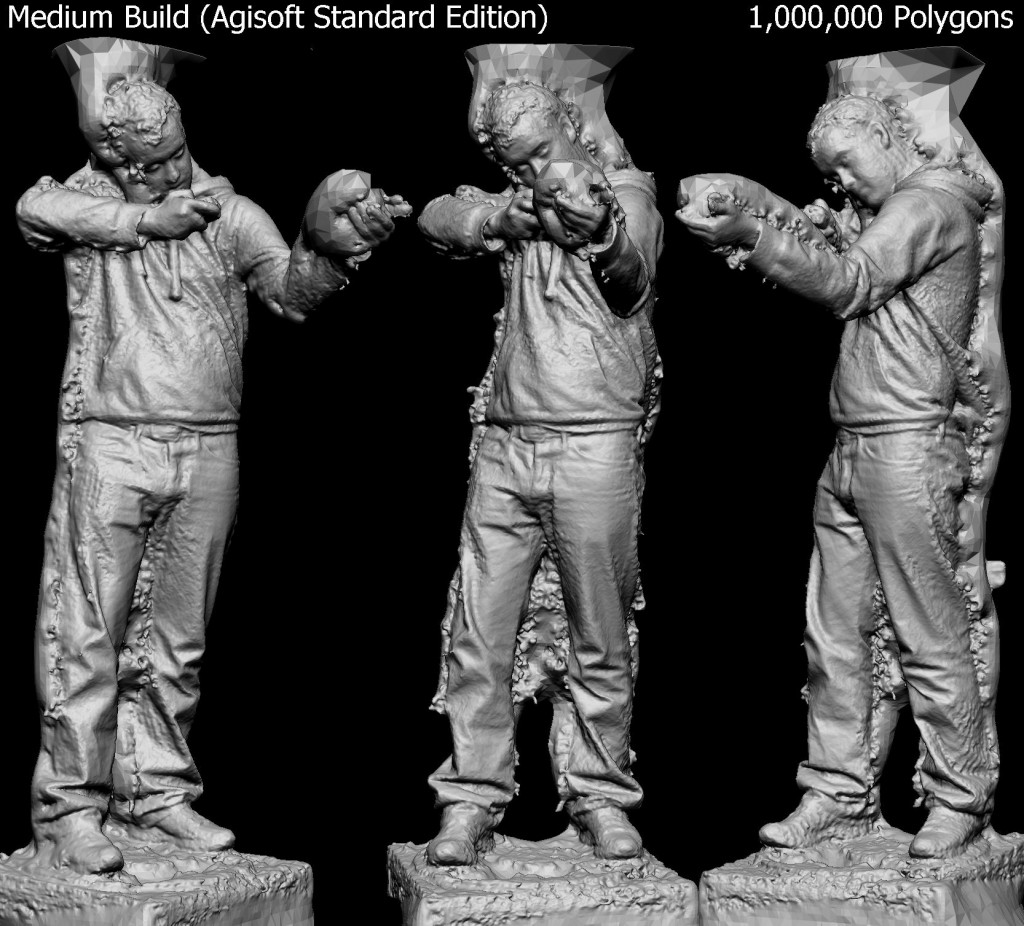 10 Minute build time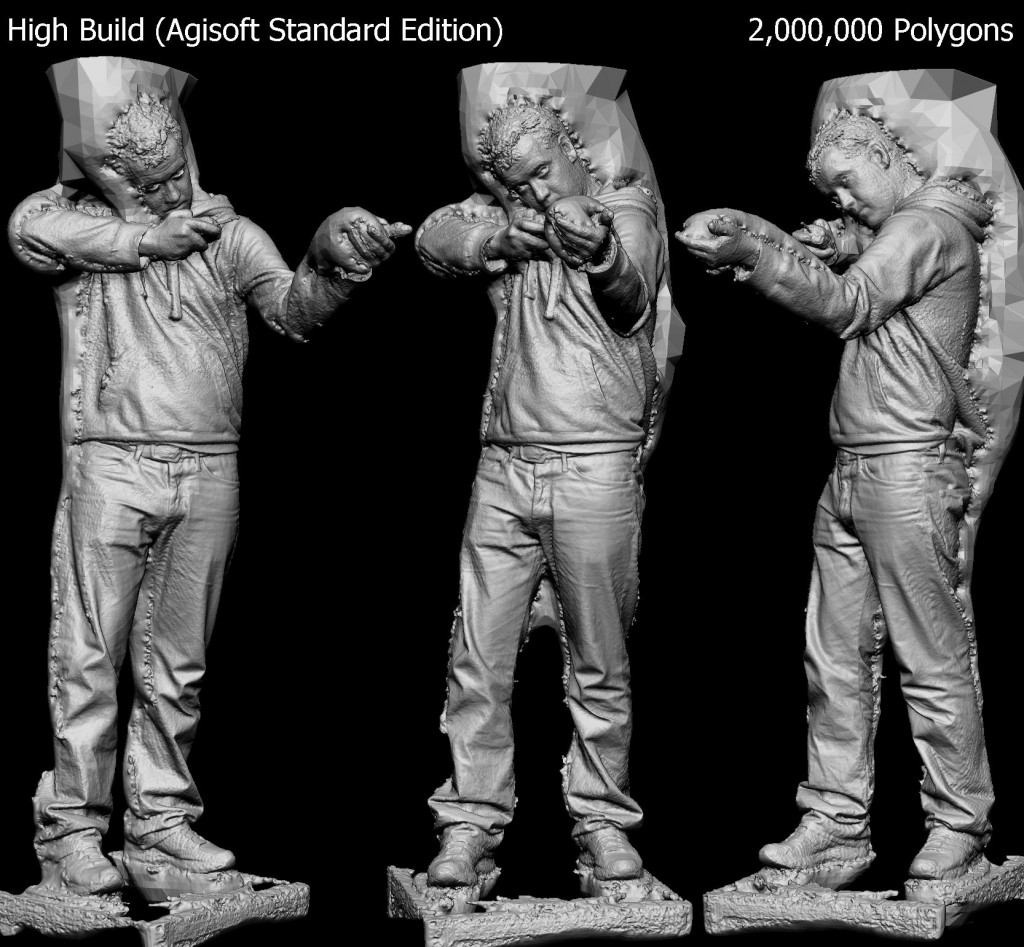 1 hour build time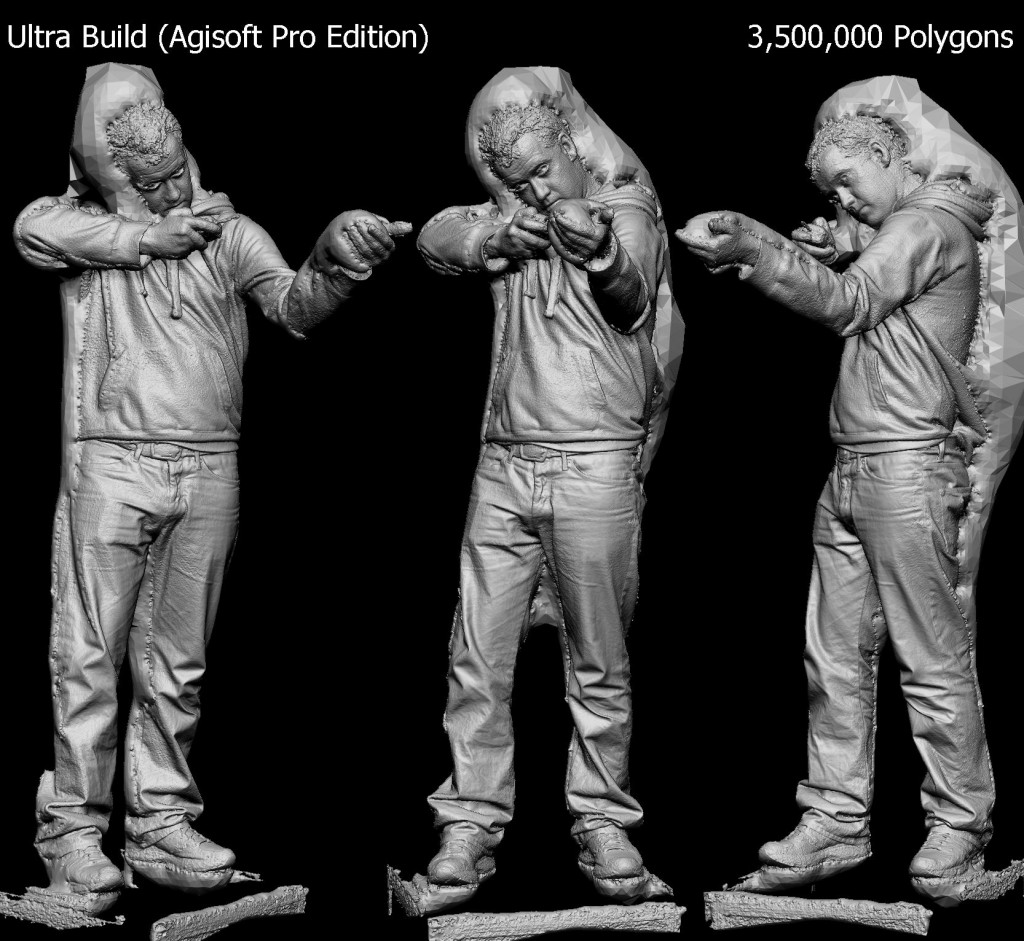 5 hour build time
The trade off is build time ..but with more Ram and more CPU power this can be reduced easily. The benefit to this type of Capture system? Super High Fidelity and Instant Synchronized Volumetric Capture of Dynamic Poses.
I highly recommend Agisoft Photoscan Pro Edition
Would you like to share your thoughts?